As the snow melts away and buds begin to form on the trees and flowers, Benzie County sheds its winter coat and emerges into a sight to behold.  Whether you are in awe of the vistas of cherry blossoms or just want to get out on the trails or water, one just needs to take it easy...Make It Benzie!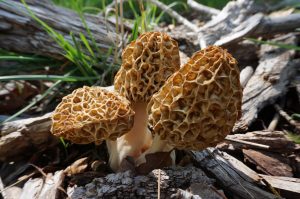 EARLY HARVESTS
April Showers brings May Flowers, but Benzie County is home to some favorite Spring harvests.  Folks come from near and far to venture into Northern Michigan woods to try their luck at finding the elusive Morel Mushroom.  Nearby, Mesick hosts their
Annual Mesick Mushroom Festival
.  Another Spring favorite is local Asparagus; nearby, Empire typically hosts their
Annual Aparagus Festival
in late May (this was cancelled for 2021).
HIVE HOMECOMING
While the local honeybees emerge from their winter cluster, the commercial honeybees make their trek back to Michigan from their warm winter refuge.  The honeybees from Sleeping Bear Farms make their return from sunny Florida, where they were busy making their Tupelo and Orange Blossom honey during the winter.  They will now aid in local pollination and create the delicious Star Thistle and Wildflower honey varieties.  As a reminder, honey bees are very hungry from the long winter, so leaving those early dandelions a bit longer helps feed the hive while they await for the other flowers and trees to bloom.