As the ground is covered in a snowy blanket, Northern Michigan transforms into a winter sport mecca.  Benzie County is home to a variety of outdoor adventures.  Whether you have a need for speed, or like to take it easy...Make It Benzie!
Crystal Mountain Cam
Thompsonville
Garden Theater Cam
Downtown Frankfort
Frankfort Lighthouse Cam
Frankfort
Harbor Lights Resort Cam
Frankfort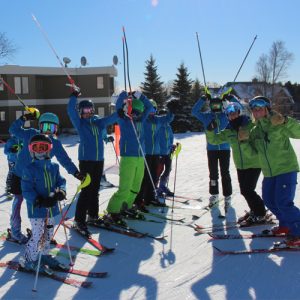 DOWNHILL SKIING & SNOWBOARDING
Benzie County is home to the prestigious Crystal Mountain resort, where you can carve 51 groomed & 6 ungroomed trails on skis or snowboard.  Lift tickets are available online and lift lines will be a breeze with the new RFID card entry points.  Crystal Mountain also hosts several clubs; After-School Programs and the Crystal Community Ski Club for kids, and Retired Not Tired for those a bit older.  If you just want to brush up on your skills be sure to book a lesson with one of the many talented, certified instructors on staff.
The area is abundant with both groomed and ungroomed trails for miles of Nordic fun.  The Traverse City region is home to the VASA Pathway where many competitions bring athletes and visitors to the area each winter.  The Sleeping Bear Dune National Lakeshore has miles of trails with breathtaking views of Lake Michigan and the Manitou Islands.  The Grand Traverse Regional Land Conservancy has many pristine trails throughout Benzie County to take in nature and true peace on Earth.  Our very own Crystal Mountain carves trails through the golf course and the Michigan Legacy Art Park for a fun Nordic adventure.  Clinics and lessons are always available.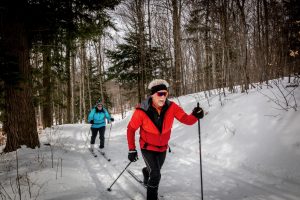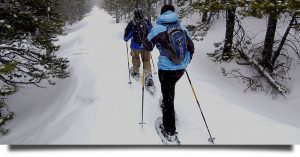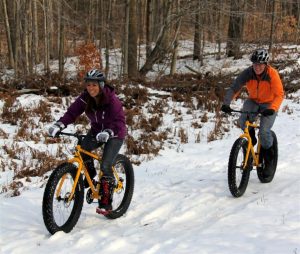 Benzie County does not have a shortage of lakes to pull your shanty onto its icy surface to drill your hole and try your luck at ice fishing.  Anglers have the best success with Perch, Walleye, Smelt and Pike during our winter months.
Michigan DNR - Weekly Fishing Report
Be aware that ALL Ice Shanties must be removed from area lakes by midnight, March 15, 2022.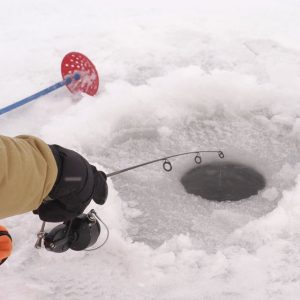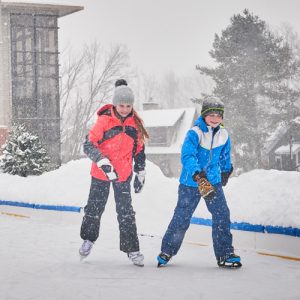 Whether you prefer a rink or the smooth surface of one of our many local lakes, there is plenty of room to skate.  The Traverse City Region is home to Centre Ice indoor area, home of the Detroit Redwings Training Camp & NHL Prospect Tournament.  Many area communities build local rinks, including Crystal Mountain's new Barr Park Rink & the Village of Benzonia Rink at Academy Park that are perfect for family-friendly fun.  Crystal Mountain, the Benzonia Public Library & Centre Ice also have skate rental available.
Most people are familiar with Curling from watching it during the Winter Olympics.  If you ever wanted to get in the game, you are in luck.  Our very own Stormcloud Brewing Company builds a curling sheet each winter for lessons and leagues.  The region also hosts the Leelanau Curling Club year-round for lessons, leagues and groups.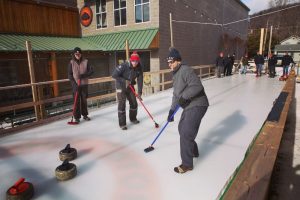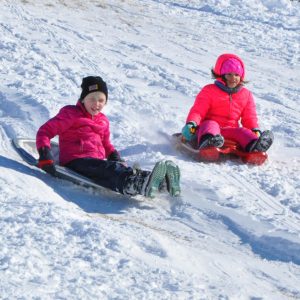 Did you know, Michigan is home to several dog sled teams?  If you are not quite ready for the Iditarod, you can still take an excursion with a working team.  Or take a family adventure and take a kennel tour to learn all about the sport.  Shemhadar Dog Sled Adventures tours the Traverse City Region.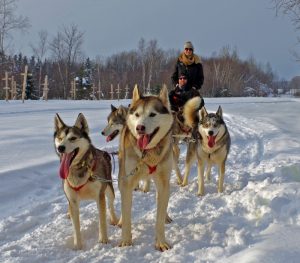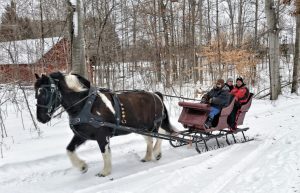 Nothing says Holiday Magic like a horse-drawn sleigh ride.  Take a step back in time curled up an a blanket and enjoying a gorgeous winter day.  Chamber of Commerce member, Fantail Farms is the premier stop for horse drawn excursions.  Be sure to book ahead, reservations are limited.
Looking for some Apres Ski activities, or simply an escape from the cold?  Join our many restaurants for outdoor dining in an igloo or snow tent.  Cozy and warm on the inside, and perfect for families and small groups.  Most establishments require advanced reservations, so book yours today at Stormcloud Brewing Company, St. Ambrose Cellars and the new Base Camp at Iron Fish Distillery.